As we get closer to Black Friday, some of you may be finalizing your holiday gifting plans or looking for ways to minimize the spending we'll be doing through the end of the year. 
In true All the Hacks fashion, I have some tricks for navigating the holiday shopping season that will keep you from having to reenact the plot from Jingle All the Way. If you were born after this movie came out, please keep it to yourself, I'm already feeling old enough this year.
💻 Online Shopping 
Cyber Monday is 11 days away and is when retailers drop all kinds of deals that can only be found online. Using Cyber Monday to your advantage is a huge hack to save on money and rack up some cash back.
Sign up for a retailers' newsletter for exclusive drops or coupons. Many do a "Deal a Day" throughout the shopping season and send item-specific or one-day-only coupons. 

Save time by reading roundups of the best deals. A quick search of "best cyber monday tv deals" will land you on pages like this and this. I love to let sites like these do the research, so I don't have to spend time looking at every retailer's site. Note: this also works for Black Friday deals.

Triple stack your savings with cash-back, coupons, and credit card deals.

Companies like Rakuten and TopCashback offer free cash-back on many large retailers. Cash Back Monitor can also help you figure out which company offers the most cash back for any retailer.

On top of these cash-back deals, browser extensions like Honey will make it easy to find promo codes before you check out.

Finally, most credit cards offer store-specific cash-back deals too, so make sure to search their apps before shopping (I just looked through Amex's list and found that I could get a free $25 on a purchase from Lovevery that I was already going to make (if you have a kid under 4, you should check out their play kits).

Best of all, you can stack all of these and get a discount, cash-back from a cash-back site AND cash-back from your credit card. Ultimate hack moment.

Online shopping helps you stick to your list. We all know venturing into Target or Costco can be dangerous. Online shopping means you physically can't wander through a store and buy things you really don't need. 
🛒 In-Person Shopping
Let me start by saying, you are a brave soul. That said, going into a store can have great advantages.
Retailers offer In-Store Only promotions throughout the holiday season that can be better than their online offers. You can usually find the local in-store flyers on the retailer websites to find these deals. Also, some cash-back apps like Rakuten have in-store cashback offers when you use a linked credit card. Finally, don't forget some stores offer free gift wrapping!

In-person shopping can also eliminate shipping costs and issues. While I appreciate free returns, I'd much rather pick right the first time, which is why I appreciate being able to try out products in person before buying them. Also, while large retailers can waive shipping fees, it usually takes hitting a certain dollar amount in your cart to reach it. Is spending another $25 worth getting free shipping that costs $7? 

It's easier to support small businesses in person. Your money has a much bigger impact when you shop with local merchants. Not only can you avoid those shipping costs mentioned above, but that money spent goes directly back to your community in much more impactful ways. This article from Time Magazine dives deeper into the benefits of shopping local.
🛍 Shopping Hacks
I know that shopping for gifts, or shopping in general, isn't fun for some people. Don't worry! I have ways to make it less torturous. 
Protect your information when shopping online. Extensions like Privacy allow you to create "virtual" credit cards so retailers never see your actual card information. You can also turn them off or set spending limits at any time. Whenever I'm shopping on a site I don't trust, I use a Privacy card.

Do some research before committing to big-ticket purchases. A site like WireCutter is perfect because they have all the lists, all the reviews and will even let you know when something goes on sale. 

Always ask about return policies and keep receipts. Some retailers put more strict return policies in place over the holidays. And if you don't like keeping track of receipts, fellow hacker Allison suggests taking a picture of every receipt so you can always look up the purchase date, return policy and even use the photo to make returns where the receipt is necessary

Don't be afraid to ask for a discount. I've done this over Live Chat on some retailers' sites and been pleasantly surprised to get coupons. If you're in person you might also get a deal if notice things like damaged packaging, seam rips, or want to purchase a floor model.

Look for price-matching. BestBuy, Walmart, and Target all have great price-matching policies. Compare online prices and competitor prices to get the best deal.

There is nothing wrong with second-hand gifts! Not only does it save money, but it can be easier to find specific or out of circulation items. Places like Facebook Marketplace, Mercari, and eBay are ripe with deals for everything from clothes to electronics to beauty products.
💳 Holiday Credit Card Hacks
There are so many advantages to putting these credit cards to work this season. We already know about things like cash-back and redeeming those travel points, but there are so many cool perks you might not be thinking about. 
🎉 Fun Gift Ideas
I don't usually like to spend money on random silly gifts, but I've come across two this season that I didn't hesitate to pull out my card for. 
For the friend, sibling or in-law you love to drive a little crazy, here's a perfect holiday card for them! Once you open it, the music won't stop until the battery dies :)
Or if you just want to put a smile on someone's face, Whiskey River Soap has a snarky candle for almost any situation. My most recent gift really summed up how I feel about so many of the events on my calendar over the years.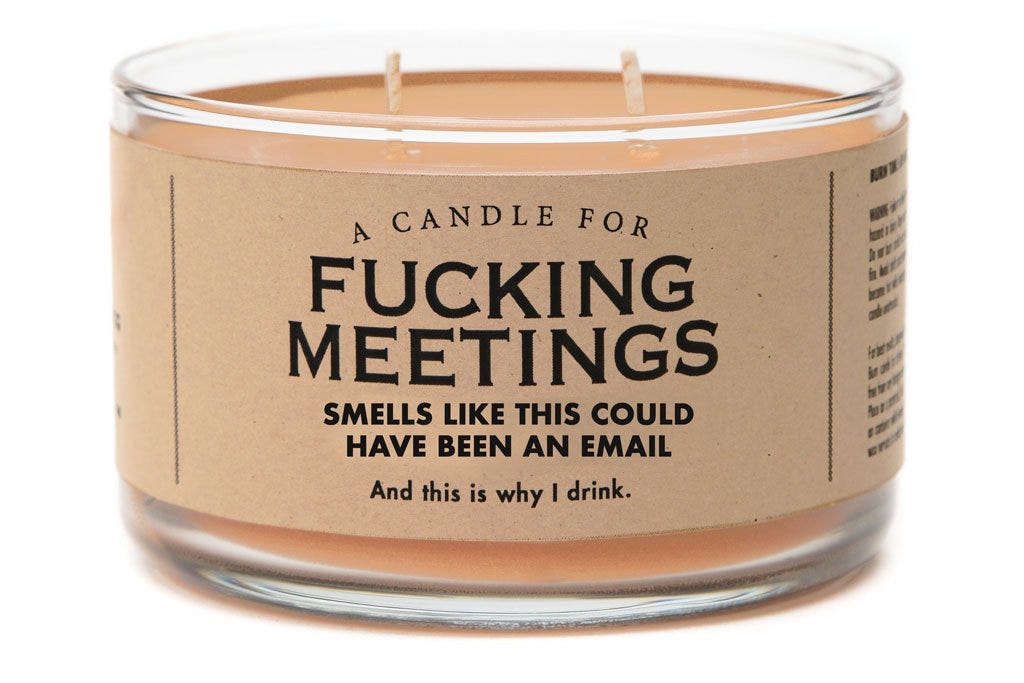 📬 Top Listener Hacks
I'm so thankful to the amazing readers and listeners who shared their favorite hacks with me, so I thought I'd highlight some favorites. Please keep them coming!
If you get deep in the points game, tracking your cards, minimum spend requirements and perks can be a lot of work. Al Chen emailed me to share a complete system he designed to remind him when he needs to hit signup bonuses, when certain credits are expiring, perks that need to be used, etc. He published his full template online with detailed instructions for anyone else to copy it for themselves. 

After hearing me say that it's hard to use up the entire balance of a gift card, JB emailed to share that you can add any amount (down to the cent) from an Amex/Visa gift card to your personal gift card balance on Amazon. I'll never leave a balance on a gift card again!

John wrote in to share one of his favorite sites for deals: DealNews. His hack for the site is signing up as a member (free) and adding alerts on all the brands or products you buy. He uses it to save $$ on the everyday purchases he makes each month, like Tide Pods and Kleenex. (John clarified that he's not affiliated with the site, he just loves it).

All the Hacks listener and famed New Yorker Cartoonist Jason Chatfield wrote in to share an amazing workout hack. He loves coffee but was never making it to the gym. He decided to throw out his coffee maker, which forced him to get out of the house each morning. He picked a coffee shop near his gym and because he already got over the hurdle of leaving the house, he's now regularly going to the gym before getting his coffee. I love it! He's written about this hack and many more on his blog.